I was drafted into the U.S. army on March of 1944. My basic training was done at Camp Walters Texas for 16 weeks and from there I went to Ft Mead, Maryland. I went there to be part of the replacement for another division that was shipped to Europe. Instead I went to Ft. Jackson, S.C. to join the 87th  infantry and I had several weeks of additional training. The entire 87th division went to New York and we were deployed to Europe on October, 1944. I was trained as a gunner operator of an 80mm mortar with company D, 345th infantry of the 87th division. I fought in me battle of Morcy and then on to the Ardennes Forest and the Black Forest. I also fought in the Battle of the Bulge, St. Vith and then we crossed the Moselle River into Koblentz on the Rhine River and finished up our fighting in Plauen in Northern Germany, which is near the Chech border. The war ended and I was able to find a German, Nazi flag, which I brought back to the states from the city of Plauen.
While I was in Ft Bragg, I went to a military supply house and I bought a box of shoulder patches that represented most all of the attending military groups that fought in WW II. This included the Army, the Navy, the Air Force, the Marines and the Coast Guard. To me this flag represented the men and women that fought and won WWII. I did not win the war, you did not win the war. We all won this war together. The flag hung in my basement for 50 years as a reminder of the lives that were given for freedom of all that was involved in the winning of WWII.
The local drug store owner in the town in which I have lived for 70 years has a museum, which represents many businesses that were located in Granite Falls, North Carolina, from years ago. He was told that I had missed Nazi flag in my basement and he wanted to see the flag. He asked if he could have it so he could place it into the museum and I of course said yes. He and his wife took it to a local company that cleaned, framed and sealed the flag for future generations to see and it remains in that museum which has a huge selection of antique, vending machines.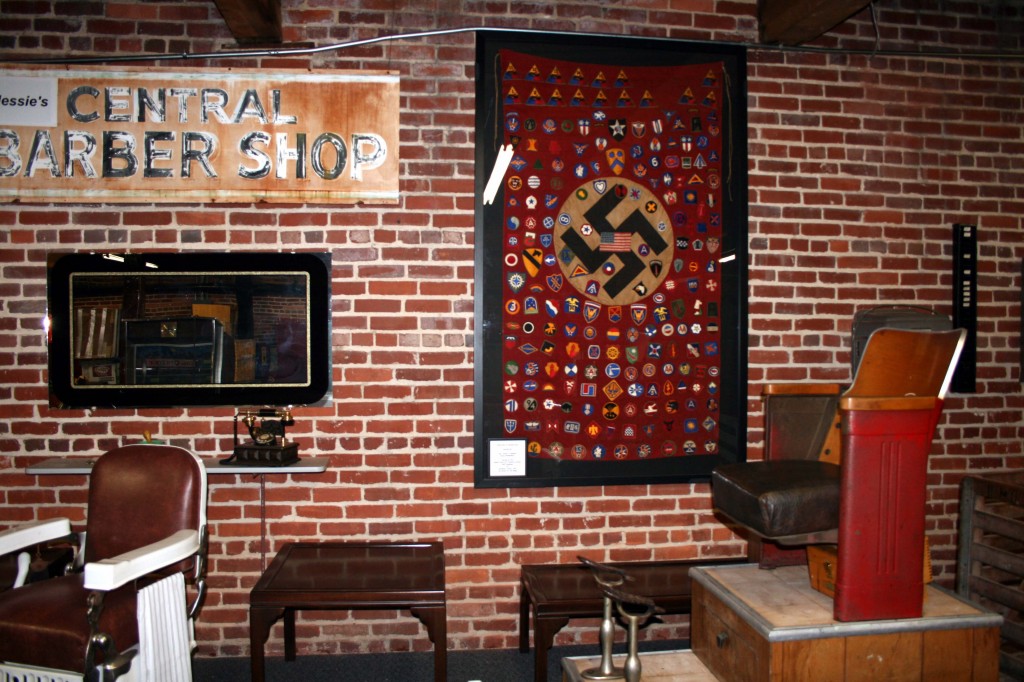 Above is a photo of the booth in the museum, which shows my barbershop as it was in the 60's and the Nazi flag hangs on that wall today.
For you WWII veterans, see if you can find your shoulder patch in the picture of the flag.