Gary Higgins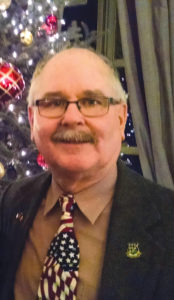 Here we are with another exciting issue of The Bulge Bugle. This is a great opportunity to communicate with one another, and relay reminders to keep our "new" organization strong.
The transition from VBOB to BOBA has gone well for past and present officers. Alan Cunningham deserves a big THANK YOU for his efforts in this endeavor. Our group has applied for official IRS-recognized 501(c)(3) organization status.
We are now taking a new approach in reminding members to renew their memberships with BOBA. We have a phone call system being used, and I personally made some reminder calls. This was a great, positive opportunity to have conversations with some of our members. Some were quite happy to hear from their BOBA President. [Check the date, right below the big arrow on the back page of your most current Bugle, for your membership renewal date. Dues letters will no longer be mailed, in order to save BOBA money on printing and postage.]
We are happy to announce that we have recently appointed Thea Marshall as our Public Relations Officer, to help us in publicizing BOBA to new audiences. [See more about Thea here. ]
You may have noticed in our last issue [February 2017, page 9] how you too can become an advocate for BOBA. This can be done by handing out BOBA promotional cards. Print your own cards, or have Tracey print and mail some to you. [Email tracey@battleofthebulge.org or call her at 703-528-4058, to get the cards.] I've handed some out myself and found it to be a good tool in greeting potential new members, and sharing the story of BOBA. It also prompts second generation people to tell their stories of fathers and family who served in the Bulge.
Social media has made it easier to correspond with our European friends and members. We have a good following of Belgian and Luxembourg citizens, through our Facebook page and website. I want to encourage them to join as members, and submit articles and photos to us for publication. We respect your support and want your input. International friendship is an integral part of BOBA. I also have contact with some overseas friends who have offered ideas for increasing international memberships. This is something our board will need to discuss in the near future.
Please look at the agenda and registration information for the San Antonio, Texas reunion. Click here for details. Barbara Mooneyhan has worked hard in getting this event planned and her efforts are appreciated. Be sure to thank her. I will be looking forward to seeing old and new members in late September. This also gives each of you a great chance to bond with our veterans, their family members, and all attending, who are interested in preserving the legacy of our BOB veterans.
Remember, each of you has a reason why you belong to BOBA. Please tell the story and if possible get it firsthand from the veterans you know, who can give precise details of the time they spent in the Battle. History is at its best when shared on a personal level.
For those who make donations to BOBA, I wish to say, "Thank You!" for these monetary gifts, often made in honor or memory of a family member or friend who served.
Your board will soon be having a teleconference BOBA Board meeting. Any matters for the board can be addressed, if adequate time is given for the subject to be added to the agenda. [Email details of your agenda item for consideration to: gary@battleofthebulge.org.]